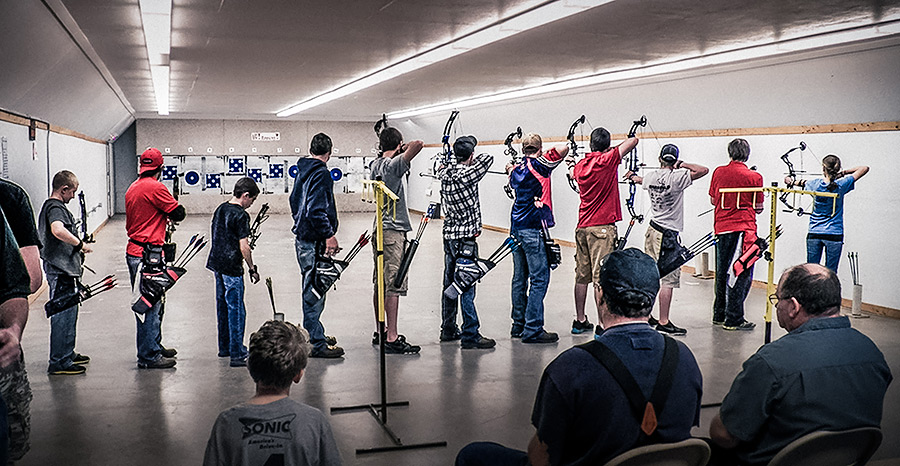 Youth Archery Tournament
For young archers looking to put their skills to the test, we offer a Youth Archery Tournament each spring. This increasingly popular event attracts boys and girls looking for a competitive challenge and to further develop their skills. Shooters go head to head with other competitors in any of five categories in which they meet the age requirements. There is no limit to the number of events a participant may enter though a separate registration fee applies to each. Points are awarded based on accuracy for a total of 300. Young archers should be trained in basic elements of the sport and have a solid understanding of the rules and safety regulations of archery. All participants must be under 18 and will receive a commemorative shirt (one per participant) with registration.
Next Youth Archery Tournament is Saturday, April 1, 2017.
2017 Youth Archery Tournament

April 1, 2017
Shooting times:

7:30 AM – 4:10 PM

Awards ceremony:

5:15 PM

Registration deadline: post-marked by

March 1, 2017

Sorry, no walk-ins
Details

NFAA blue and white five- and single-spot targets
60 arrows
10- and 20-yard options
Rates

$15 for the first shooting event – includes a t-shirt
$10 per each additional event
Make checks payable to: Oregon Sportsman's Club
Categories and Ages

Bare Bow
Limited: fingers, no sights
Unlimited: release
Ages 8 and under
Ages 9 to 11
Ages 12 to 14
Ages 15 to 18
Outlaw: 10 yards, ages 11 and over
Advanced: 20 yards, ages 12 and under