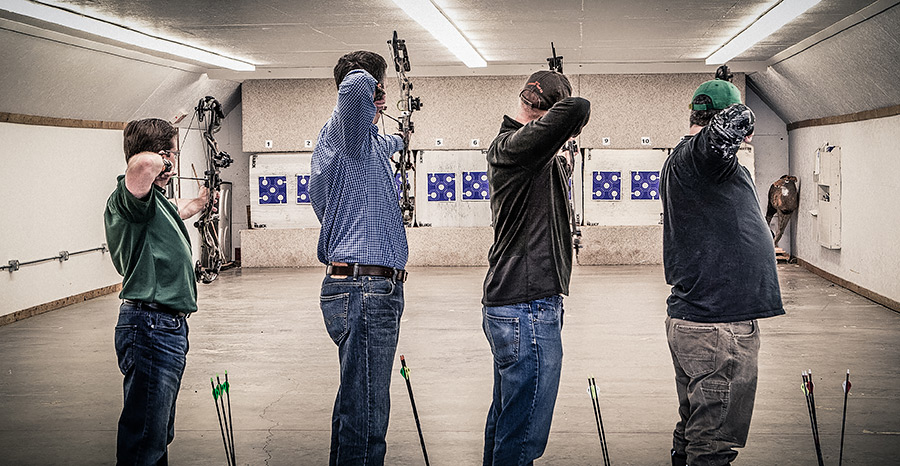 Indoor Archery League
When the days grow shorter and the nights feel long, it's time for our indoor archery league to begin. Hone your technique well into the winter months alongside some fun and friendly competition. Shooters form four-person teams that meet on Thursday evenings for 12 weeks. Each team shoots 60 arrows from the 20-yard line for a total of 300 points. A handicap system allows shooters of all experience levels and abilities the opportunity to compete for the championship.
If you're new to archery or don't have a team, the club is an ideal place to begin. Members can join an existing team, space permitting, or we may be able to help you form a new one. Contact the archery league director for more information.
Congratulations to the 2023 Indoor Archery Champions!
Bear Division (Class A)
1st place – David Walsh, Eric Walsh, Aaron Novinska and Raul Castillo, total 2842
2nd place – Joe Schrank, Dylan Taylor, Seth Marten and Ethan Karls, total 2744
3rd place – Stacey Helmer, Cody Helmer and Keith Helmer, total 2719
Wold Division (Class B)
1st place – Kyle Steinhorst, Dustin Urban, Connor Urban and Nate Lange, total 2754
2nd place – Karen Gilbert, Tim DeVries, Greg Sessler and Benny Hofmeister, total 2650
3rd place – Bill Alber, Steve Culp, Slim Wagner and Adam Gile, total 2649
Fox Division (Class C)
1st place – Mary Jensen, Bryan Jensen, Molly Battist and Kelly Hofmeister, total 2498
2nd place -David Zuehlke, Joey Zuehlke and Cameron Mueller, total 2452
3rd place – The Ingham Family…Aaron, Marcie, Mallory and Kellen, total 2207
Awards will be presented at our Annual Potluck, Thursday, August 24, 2023.
Winter Archery League starts January 2024 – Dates to be determined

Please contact Fred (608)438-9374 or Becki (608)438-9387 to sign up or if you have any questions.
2024 Winter Archery League

Starts January 2024 – Dates to be determined
12-week session
Thursday evenings (staffed bartender)
Members can shoot anytime the archery room is available but there will only be a bartender on Thursday nights
Scores for each week are due each Sunday by noon
NFAA blue and white five- or single-spot targets
60 arrows
Handicap scoring system
Four person teams
Rates

 $75.00 per member
Club membership is required