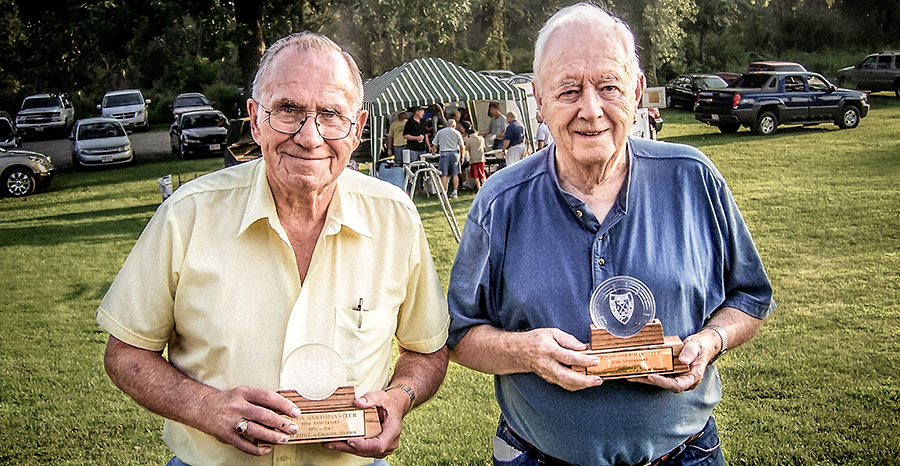 History
The Oregon Sportsman's Club was founded in 1970 when a group of shotgun enthusiasts united over a shared passion for the sport. Jim Rowe and a small group of friends and co-workers began meeting in a gravel pit to shoot trap in the evenings. Before long, they were forced to relocate due to the land being sold. The group secured permission to shoot in the sand pits off highway MM just outside of Oregon, and equipped with just a barstool and a hand trap thrower, they made the most of their situation. As the group grew, someone proposed they form a sportsman's club. Local tavern owner Roland "Roley" Indermuehl suggested they hold a meeting at his tavern, the Sportsman's Bar, to discuss logistics. More than 30 people turned out for the initial meeting, excited at the idea of a permanent space to pursue their passion. Roley spoke with the Berkey brothers, who sold eggs locally, and asked if they knew of any land in the area where they could build a club. The brothers offered a tract of wasteland just west of Hook Lake in the Town of Dunn. The sportsmen purchased the plot and leased land to the north, eventually buying that plot as well.
The club now boasts over 26 acres of pristine prairie and woodland. The land and buildings are permanently owned by the club and maintained by a volunteer group of members. Devoting countless hours and energy to the organization, the original members built many of the structures and features by hand. Founding member Tom Shackelford completed all of the masonry work for the clubhouse exterior as well as the fireplace and stone retaining wall. Their hard work and dedication can still be seen today throughout the grounds. In the years since, membership and interest have grown tremendously. More buildings have been added as well as regular shoots and events that the community has come to look forward to.
The Oregon Sportsman's Club has remained true to its mission to provide members with the opportunity to pursue shotgun sports, archery, and recreation in a fun and friendly atmosphere. In addition, the club also offers education and safety instruction, tournament and league activities, and special events.
First Officers of the Club
1970–1971
| | |
| --- | --- |
| Roland Indermuehl | President |
| Jim Rowe | Vice President |
| Richard Haynes | Secretary |
|  Tom Shackelford |  Treasurer |
Many have dedicated their time and energy to ensuring smooth operations for the club throughout the years. To see the complete history of past officers, visit the full list here.