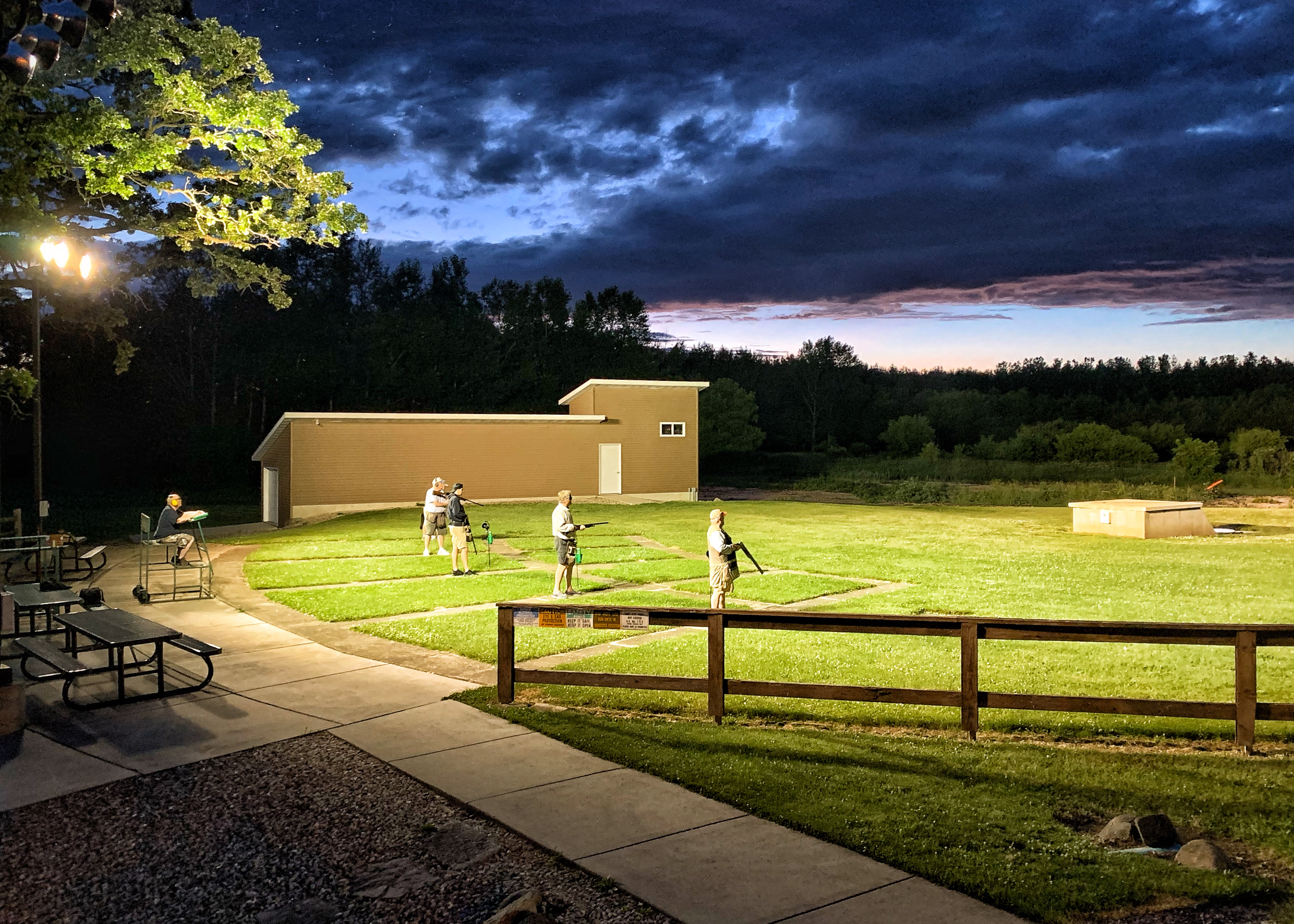 Trapshooting League
For many, the return of warmer weather means it's time to get outside. But for the members of the Oregon Sportsman's Club, when the sun comes out, the guns come out. The club's premier trapshooting league begins each year in May and runs for 12 weeks throughout the summer. Shooting takes place on Monday, Tuesday, and Thursday nights on our two trap fields. Five-person teams compete for the chance to take home the championship and the glory. Past years have seen a rather significant increase in the popularity of the league, resulting in over 30 teams gunning for one of five class titles — AA, A, B, C and D.
New to trapshooting? Don't have a team? The club is an ideal place to get started. Members may join an existing team, space permitting, or we may be able to help you form a new one. Contact the trapshooting director for more details.
2024 Trap League Notice

Our 2024 Trap League begins early May – dates to be announced
Teams will be contacted in February and March
If you'd like to start a new team our would like to join the league without a team please email

[email protected]
2024 Trapshooting League Details

League Dates to be announced
12-week league: May through August
Monday, Tuesday, and Thursday nights
Five-person teams
Must be a club member to participate
Six team classes: AA, A, B, C, D and E
Top gun awards: Men, Women, Legends (65+), Next-Gen (18-25) and Junior (17 and Under)
Championship Shoot Offs / Awards Banquet  - Date to be announced
Rates

Adults $150 per person
Youth $75 per person
IMPORTANT SHOOTING NOTICE
Shotgun shooting at the Oregon Sportsman's Club is strictly regulated by a conditional use permit jointly issued by the Dane County Zoning and Land Regulation Committee and the Town of Dunn. A list of shotgun shooting dates must be made available to the Town of Dunn and its residents after March 1 of the event calendar year. Shooting during unauthorized times will jeopardize our relationship with our neighbors and endanger the club's existence. As a result, shooting hours are restricted to the following:
Monday, Tuesday, and Thursday evenings from 6 PM to 9:30 PM
Trap and skeet shooting on two designated Saturdays per month from 9:30 AM to 2:30 PM
A maximum of four single-day shooting events per year
Failure to adhere to the posted hours could result in the loss of shotgun shooting privileges. Shooting at any time other than posted hours is strictly prohibited. Shooting on a federal holiday is prohibited. Hunter Safety courses are not restricted.